Quadrone - Game-in-a-week
The development of Quadrone has a bit of a story behind it which I'd like to share. Perhaps someone reading this can relate, learn from or be inspired from it.
Almost 3 years ago I started my job as a Software Developer (Prototype Engineer) in a game design team at Derivco. The tradition was that all developers that joined needed to develop a game within a week. The game was then sent to all the team members to play and emails were sent with bugs, hacks and high scores. As a fresh graduate out of university who didn't have any game development experience it was quite a challenge. However, at the end of the week, I produced a game. It wasn't the best game in the world, but it worked! Herein lies my inspiration for Quadrone.
I've been a classic "Perfect-planner" who always waited for the perfect plan, opportunity, software, PC equipment, etc. Over the course of the 2 years and many chats with Rory Smith-Belton, I've realized that waiting for the "Perfect Plan" is a myth! The following quote summarized this succinctly,
"You don't have to be great to start, but you have to start to be great" – Zig Ziglar
It was time to find something to do and start, just start. Trying to do something you've always done differently is difficult! I had to make a conscious effort in starting without over-planning, embracing failure, learning from the failures and moving forward. I fought the internal demon of doubt, fear and laziness and decided that I wanted to build a game. I thought about how 3 years ago I built a game within a week and I had no excuse not to do the same now. So I came up with the following brief:
Game name: Quadrone (Quadcopter + Drone) or a Drone made up of Quads.
Player: Use a Quadcopter/Drone
Type: Endless side-scroller
Mission: Avoid obstacles, objects, things
Goal: Build the game in a week
Here are my original sketches and plan for the game: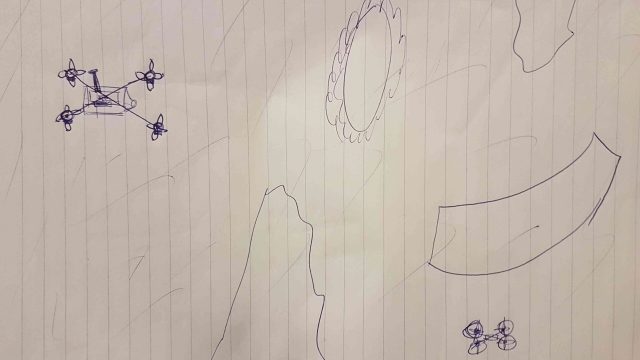 Day 1: Setup Tools
Game Engine: Unity Personal
Assets: Use assets from the Unity Asset Store or create my own
Game Engine: Unity Personal
Assets: Use assets from the Unity Asset Store or create my own
Version Control: Git and SourceTree
Scripting IDE: Visual Studio 2017 Community edition
Day 2-3: Game Mechanics
I wanted to get the game functional and playing correctly without
much concern about the graphics and assets at this stage.
I used spheres as the obstacles
I had a drone that I designed in Unity that was dying and colliding
with obstacles correctly
When you hit the sphere, the drone and sphere were removed
Scoring system
Once I had the basic mechanics working, I moved on to finding some
assets.
Day 4–5: Music, Graphics and UI
It was here that I thought, birds will make sense to be obstacles instead of weird shapes. Since the background assets I found was a sky with clouds moving around, birds would be a good fit
I found graphics for a parallaxing background, 3D models of birds and a background track
Created a particle system for the explosions
Using my phone, I recorded my own sound effects for the birds
Day 6: Final polishing, bug fixes and register developer accounts
I used this time to:
Tighten up the UI
Fix a few bugs
Tweak difficulty and game play experience
Create Developer accounts for Android and Apple
Android Developer account fee: R327.7 (~CAD32) once-off
Apple Developer account fee: R1,297.68 (~CAD129) per annum
Day 7: Deploy to Android Play Store
I had chosen to deploy to Android first as the process is usually much easier and faster. I was eager to publish the game and have people play it.
After a week of development, Quadrone was live on the following app
stores:
Android Play Store
Apple App Store
Feedback
Once the game was live, I sent the link to my colleagues. The feedback I
received was incredible! It's amazing how many different point of views there were and how much I learnt from just the feedback. There were a few bugs and improves that I made afterwards.
Lessons Learnt:
Pushing through the initial doubtful phase is paramount
Having a defined goal and time frame helped focus and prevent scope creep
Don't let the lack of skills, art or music stop your game development. There are tons of resources out there!
I found breaking things down into daily "missions" was very helpful. I used Google Keep to store a checklist of items I wanted to have done for that day.
If you really want to do something, just do it. Stop making excuses.
I hope this was a useful or helpful article. I'm looking forward to doing
more games-in-a-week.