The aim of this post is to summarize:
What's required for collisions in Unity
How to setup some basic collision detection
When OnTrigger and OnCollision are called and when they aren't
What's required for collision to occur?
For collisions to be detected by Unity, there are 2 components that are of particular importance:
1. Rigidbody
Allows an object to react to physics
A key property to note is: isKinematic
If you do not require the object to have physics-based interactions with other objects (i.e. isKinematic is true), a Rigidbody is still required (on at least 1 object) for any collision to occur
2. Collider
Used to define the shape of the object (or rather an approximation of it) which will be used for collisions
There are various types of colliders, namely; Box, Sphere, Capsule, Mesh, etc
A key property to note is: isTrigger
How to setup basic collision detection?
1. When you need two solid objects to interact with each other:
Notes:
At least one Rigidbody needs to be non-kinematic (i.e. isKinematic = false)
Callbacks that will be called:
OnCollisionEnter
OnCollisionExit
2. When you want to do something when a collision occurs (i.e. a trigger) on a non-physical object.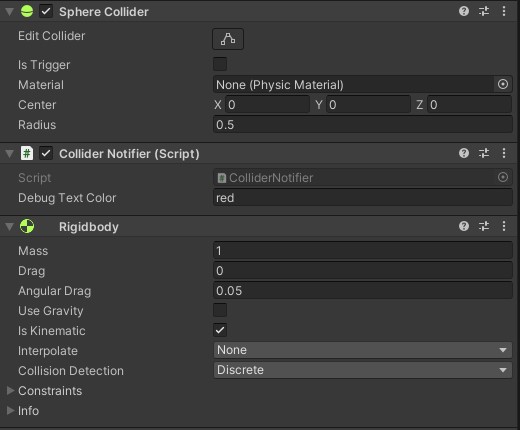 Notes:
At least one object requires a Rigidbody

isKinematic can be either true or false

At least 1 Collider needs to have isTrigger = true

Both cannot be set to isTrigger = true
Callbacks that will be called:
OnTriggerEnter
OnTriggerExit